Anyone who's ever had a fringe has been there... the awkward "growing out stage" where your fringe isn't quite long enough to sweep back but too long to wear at the front of your face anymore.
It can be a real task to get it to behave and after growing out my fringe (I know, the straight front bangs are gone!) to about halfway down my face and trying to style it in the meantime, I've finally figured out a way to get that nice side swept look. And to be honest, I was getting sick of bobby pinning my hair back all the time haha
This look can be done on fringes that are about eyebrow length to chin length, so it's perfect for all of you ladies (or long-fringed boys) who are growing yours out. It gets your hair out of your eyes but still looks really quite lovely.
Taken By Surprise Tutorial: How to style a side fringe
Okay, so first off let's take a look at that fringe of yours.
...yeeeesh. That is ONE. LONG. FRINGE. So let's do something about it.
1. With your thin-toothed comb, brush your fringe out so it is smooth and tangle free. Then create a side part and comb your bangs onto the side that you would like your side fringe to be.
2. Because we're going to be using hot tools, make sure to spritz your hair with a heat protectant spray. Mine doubles as a styling spray as well, which helps my hair keep in its styled shape, so I recommend using one :) Then take a section that's about a third of your entire fringe. I find it easier to divide my fringe into sections and style each section individually in the next step.
3. Yay, GIF time! Put that piece of hair in between the hot plates (I have my straighter on at 185 degrees Celsius) and twist the straightener back towards your crown (shown in the GIF), then pull the straightener up so the hair slips through the plates and falls naturally.
You'll end up with a funny little curl thing. But don't worry, we still have two more sections to do! So taking the next section of hair, repeat the above step.
4. Once you've styled each section, your fringe will look ridiculous and fluffy and be sticking up all over the place. But don't worry, the next step is magic :) So with your fine-toothed comb, brush out your fringe in the direction away from your face. You might need to comb it a few times through and then it will sit in a lovely little side fringe!
Bonus step: Since I have straight hair, I like to curl my side pieces as well. So I just take the side sections, put the piece in the straightener, twist the straightener and pull it away from my face so the hair falls through it.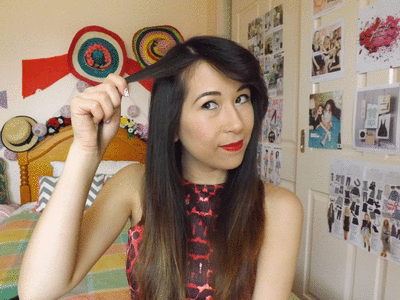 5. Now that we have our fringe how we want it, time to hairspray it! I like to hairspray underneath my fringe as well to keep it extra secure and I find that also helps it keep its shape for longer. Make sure to spray your side sections too if you styled them like I did!
How huge is this hairspray bottle?? And gotta love that cross-eyed face haha
And that's it!
Oh, the cheekiness.
Do you have a side fringe or are growing your fringe out? What are your tips? Let me know in the comments below!